Ave Maria Meditations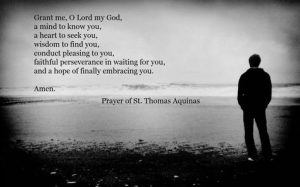 Grant unto me, my God, that I may direct my heart to You and that in my failures I may ever feel remorse for my sins and never lose the resolve to change.
Oh Lord my God, make me submissive without protest, poor without discouragement, chaste without regret, patient without complaint, humble without posturing, cheerful without frivolity, mature without gloom, and quick-witted without flippancy.
Oh Lord my God, let me fear You without losing hope, be truthful without guile, do good works without presumption, rebuke my neighbor without haughtiness and without hypocrisy, strengthen him by word and example.
Gift to me, O Lord God, a watchful heart, which no capricious thought can lure away from You. Give me a noble heart, which no unworthy desire can debase. Give me a resolute heart, which no evil intention can divert. Give to me a stalwart heart, which no tribulation can overcome. Give me a temperate heart which no violent passion can enslave.
Give to me, O Lord my God, understanding of You, diligence in seeking You, wisdom in finding You, discourse ever pleasing to You, perseverance in waiting for You, and confidence in finally embracing You…You who live and reign, God, world without end. Amen
St. Thomas Aquinas