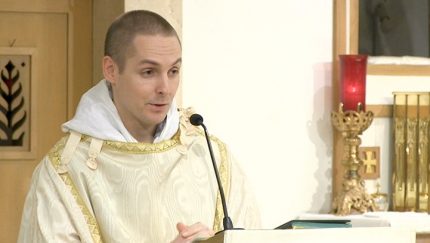 Ave Maria!
Our friar Terrance Chartier will be ordained to the priesthood this Saturday. It will be in Our Lady's Chapel that we staff in New Bedford, Massachusetts. This is very fitting since he was born and raised in New Bedford. This is a great moment for the FIs in the US since it is the second ordination in as many weeks after Fr. Josemaria was ordained on October 7th. Deo Gratias!
Please keep Friar Terrance in your prayers.
Below is an article from South Coast Today, the local paper:
NEW BEDFORD — Franciscan Friar Terrance (Karl Michael) Chartier will be ordained a priest at Our Lady's Chapel at 10 a.m. Saturday, Oct. 21, by the Bishop of Fall River, the Most Rev. Edgar Da Cunha.
Friar Terrance was born in New Bedford on June 16, 1978 to Nancy L. Chartier and Carl Corras. He was baptized at St. Julie Billiart Church in North Dartmouth. Raised by his grandparents Philip E. and Winifred M. Chartier, he lived on County Street and was a parishioner at St. Lawrence Parish. At the age of 13, he and his family moved to Fairhaven. He graduated from Holy Family Holy Name grammar school in 1992, Bishop Stang High School in 1996, and Northeastern University in Boston in 2002, studying architecture and working in the architectural field in the Boston area during and after his schooling for a number of years.
After discerning a call to religious life, he spent five months as a Jesuit novice in 2003 in upstate New York near Le Monye College. He was called out of the Jesuits by Our Lady, as he says, and in 2007 he entered the Franciscan Friars of the Immaculate after getting to know the friars at their chapel in downtown New Bedford.
He spent time in formation to the Franciscan way of life again in upstate New York near Syracuse and in Connecticut. In 2009, Chartier was sent to Italy to pursue studies for the priesthood. He completed theological studies in Rome in June of 2017, graduating from the Salesian Pontifical University, and has been sent back to New Bedford to be ordained a priest.