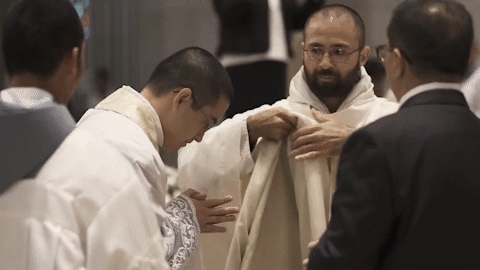 Ave Maria!
While we were busy with our commemorative event of the 100th Anniversary of Fatima on Saturday, on the other side of the globe Fra Josemaria was being ordained to the priesthood in Manila, Philippines.  He is now Father Josemaria Barbin, F.I. and will be returning to our Bloomington friary here shortly. This is a very well done video of this momentous event. Please keep him in your prayers. Deo Gratias!
From the YouTube description:
This is a short video montage of the Ordination to the Priesthood of Rev. Fr. Josemaria M. Barbin, FI at the Cathedral-Basilica of the Immaculate Conception (Manila Cathedral) in the Philippines. It took place on October 7, 2017, Feast of Our Lady of the Most Holy Rosary and the ordaining prelate was His Excellency Most Rev. Antonio Tobias, JCL, D.D.
Go to YouTube for original video https://www.youtube.com/watch?v=WUpF1kLDgVA