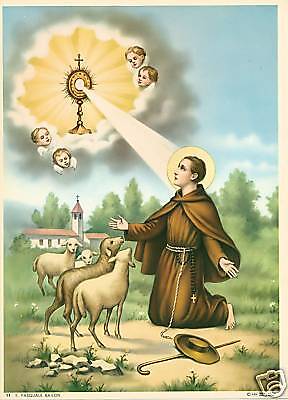 May 17th: St. Paschal Baylon (1540-1592)
Patron of Eucharistic Congresses
This Franciscan lay brother had an extraordinary love for Jesus in the most Blessed Sacrament. This humble brother, devoted to prayer, would gather alms with a Rosary in one hand and God in his heart. He also fostered a special devotion to the Blessed Mother. This simple brother, who never learned to read or write, was instructed by God and was sought out for his counsel. It is said that even while in the fields, when he heard the bells announcing the consecration at the Holy Sacrifice, the Blessed Sacrament was shown to him in a monstrance held by angels for his adoration.
PRAYER:
O God, who didst adorn the Blessed Paschal, Thy confessor, with a wonderful love for the mysteries of Thy Body and Blood, mercifully grant that we may draw from the Divine Banquet the same fullness of spirit that he did. Who livest and reignest forever and ever. Amen.
St. Paschal, help us in our devotion to Jesus in the Blessed Sacrament and to Mary, our Mother.