Ave Maria Meditations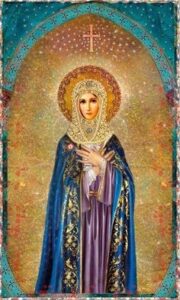 From all eternity Almighty God took delight in what was to be the most perfect work of His hands and anticipated this wonderful plan with an outpouring of His grace. A woman brought ruin and a woman was to bring salvation. The one, being tempted by a serpent, stamped the mark of sin on the human race; the other was to rise through grace, pure and immaculate. She would crush the head of the serpent who was helpless before her and who struggled in vain under her heel; for she was conceived without sin and through her came grace to mankind.
Protected with grace by Him who was to be the Savior of mankind that had fallen into sin, she escaped all shadow of evil. She sprang from the mind of God as a pure ray of light and will shine like a morning star over the human race that turns to her. She will be the sure guide who will direct our steps toward the Divine Son which is Jesus Christ. He makes her radiant with divine splendor and points to her as a model of purity and sanctity. No creature surpasses her, but all creation refers to her through the grace of Him who made her immaculate.
Clothed in light from the moment of her conception, she grew and grace and comeliness. After Almighty God, she is the most perfect of creatures; more pure than the angels: God is indeed well pleased in her since she most resembles Him and is the only worthy repository of His secrets.
In the natural order she appreciated her Divine Child, Our Lord, but in the divine order Jesus, the Divine Son, arose before her and she received from Him all grace, all purity and all beauty.
Saint Padre Pio