Ave Maria Meditations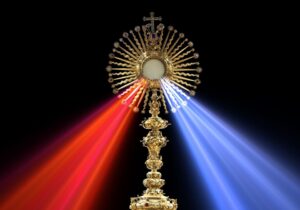 Let me wash you, and wash you frequently, that you may live in My companionship and grow in the gift of My divine friendship. Come to Me that I may wash you in the blood and in the water that ever flow from My open Heart. Come to the inexhaustible torrent that gushes from My side and other souls will follow you there.
He who remains in the torrent that ever flows from My Heart will be pure as I am pure, for such is the power of My precious blood. My precious blood is offered to My Father and given to souls for their refreshment and for their life in the mystery of the Eucharist.
It is applied most efficaciously to souls in all the sacraments, but in Eucharistic adoration the soul remains plunged, as it were, in My Blood. The effects of this,  ordinarily invisible, are lasting and they are deep. Seek to remain immersed in the inexhaustible torrent of My Blood when you approach My open Heart in the Sacrament of My love.
From In Sinu Jesu