Ave Maria Meditations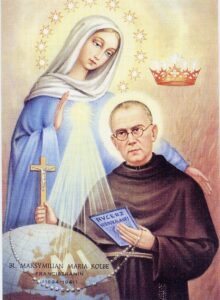 The nearer we come to the Immaculata, the more we become holy. The Mother of God is the Mediatrix of all Graces, and holiness is the work of the grace of God. The devil knows that the nearer we are to the Immaculata, the more graces we receive from her hands. That is why he tries at all cost to draw the soul away from the Blessed Mother, even under the guise of devotion to Jesus. He knows that God established such a way through the Immaculata, and he likewise knows that when a soul departs from this way, it will not receive as many graces. Therefore whether we feel aversion, whether we are in darkness or in light, let us always advance by way of the Immaculata. It is a very important matter that our life be lived through her, with her and in her.
The Immaculata is the ladder upon which we climb to the Sacred Heart of Jesus. Whoever removes this ladder will not reach the top and will crash to the ground. We strongly believe that she leads us to Jesus. Let whoever teaches otherwise be anathema! Let him be anathema!
If we wish to love Jesus with the heart of the Immaculata, receive  Him with her heart, praise Him with her acts, make reparation and at the same time give thanks through her. Even if we were not to feel and understand this way, nevertheless it is so. Then with her heart, with her acts, we praise Jesus, or actually, it is she who loves and praises Jesus through us. We are then her instruments.
Saint Maximilian Kolbe (Feast Day is August 14th)