Ave Maria Meditations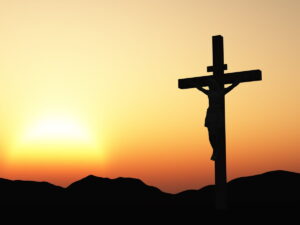 Upon His last resting place, Jesus laid Himself down. No soft bed, no easy couch to ease the agony of His aching limbs, but a hard, rough beam must be His place of death.  Meekly He extends His arms, those arms ever open to welcome back the penitent sinner, and offers His hands to be pierced as the prophet had foretold. A long, blunt nail is placed upon the palm: a heavy hammer, the crunch of parting flesh and renting muscle, the spouting  of crimson Blood which covers the face and hands of the hardened soldiers and Jesus is fastened to the Cross. Come sinner:  gaze upon your work for you have nailed Him there!
Upon the cross He hangs now, the most abject and despised of all men, the butt for vile jests, a common mark for all to hurl their jibes at. There He hangs in agony that no human lips can tell, no mind conceive, an imposter, a vile hypocrite, a failure. "He came to make himself a king! See, we have crowned His brow with a royal sparkling diadem. He sought a kingdom! From that elevated throne let Him look upon the land which will never be His now. He threatened our scribes with woes and punishments, let Him look to His own fate and if He has that power which some say He has, let Him come down now from the Cross and we too shall believe in His word."
+Fr. Willie Doyle, S.J.