Ave Maria Meditations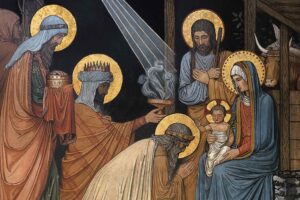 Let's begin our meditation at the start of this new year with praise: "Glory to God in the highest!" (Lk 2:14). Our next thought shall be on adoration and to note with the Psalmist: "Come, let us adore!" (Ps 94:6). The beginning of each new year gives us the feast of Epiphany. The word epiphany means manifestation. It was the first revealing of the Messiah to Gentiles, the Magi, who are also called the Three Kings or the Three Wise Men. "Let us go… and see"(Lk 2:15) could have been the motto of these travelers who left home and comfort as they were drawn by God to follow a special star. We are not certain how far they had to go but they were inspired to bring valuable gifts to the One they would encounter at the end of their journey.
We do not have to go on a long journey or make great sacrifices to come into the Lord's presence and give Him the gifts of our love, adoration, and worship. And while God is "everywhere" (omnipresent), our Lord remains physically present Body, Blood, Soul, and Divinity in the Eucharistic Host which is also called Blessed Sacrament. When we come to the Eucharist at Mass or at Adoration in a sense we are coming to a new "Bethlehem" for the Eucharist is the continuation of Christ's incarnation (physical presence) on earth! Just as the infant Jesus would not have inspired fear in those who came to see Him as His glory was concealed as a little Baby, now He veils Himself in the Sacred Host so that we can come unafraid into His presence. Jesus promised, "I am with you always, to the end of time." (Mt 28: 20). The Magi found the Little King with Mary His Mother (Mt 2:11) and Our Lady will always lead us to her Son. Let this be the year when we come to know our Lord in the Holy Eucharist more than we ever have before! In union with Mary and with reverence and love let us adore Him: at Mass, in the tabernacle, in the monstrance. Ave Maria!