Ave Maria Meditations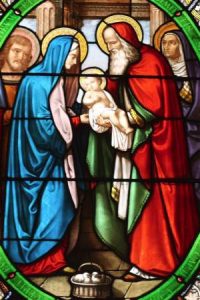 Today's feast, which marks the end of the Christmas season, is the feast both of Jesus and Mary: of Jesus because He is presented by His Mother in the Temple 40 days after His birth, according to the requirements of the law; of Mary, because she submits herself to the rite of purification.
Jesus is taken to the temple to be offered to the Father, although, being God, He was not subject to the prescriptions of the Jewish law as were the other firstborn of the Hebrews. He is the victim who will be emulated for the salvation of the world. His presentation in the temple is, so to speak, the offertory of His life; the sacrifice will be consummated later, on Calvary. Let us offer ourselves with Jesus…
Jesus is presented in the temple by His Mother. Let us therefore contemplate Mary in her office of Co-redemptrix. Mary knew that Jesus was the Savior of the world, and through the veil of prophecy she sensed that His mission would be accomplished in a mystery of sorrow in which she would participate in her role as mother. Simeon's prophecy: "And thy own soul a sword shall pierce," confirmed her intuition. Deep in her heart, Mary at that moment must have repeated her fiat: "Behold the handmade of the Lord; be it done to me according to Thy word". At the same time that she offered her son, she offered herself, being always closely united to His destiny…Oh Jesus, through the hands of Mary, I wish to offer myself today with You to the eternal Father.
Prayer: Oh Mary my mother, you were willing to be purified, although you were free from the slightest shadow of imperfection; purify, I beseech you, my poor soul so that it may be less unworthy to be offered to the Father along with Jesus, Who is your Son as well as His.
+Fr. Gabriel of St. Mary Magdalene. OCD