Join Fr. Jacinto on a Pilgrimage to Italy, September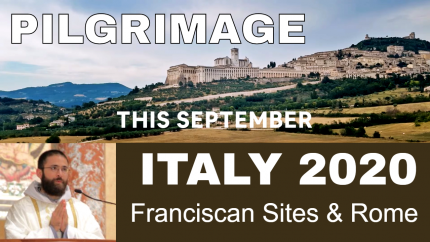 Ave Maria!
Fr. Jacinto Chapin of the Franciscan Friars of the Immaculate will lead a pilgrimage to the Holy places of Italy September (21- Oct 1) 2020, with a special focus on Franciscan sites. Starting in Rome the pilgrimage will progress to Assisi, La Verna, Cittá di Castello, San Giovanni Rotondo, Loretto, Lanciano, St. Michael's Cave, and Montecassino. Back at Rome, we will see St. Paul Outside the Walls, the Colosseum, St. Peter's Basilica, Vatican Museum and more. For details go to Canterbury Pilgrimages' site:
https://canterburypilgrimages.com/current-pilgrimages/pilgrimage-to-italy-with-fr-jacinto-mary-f-i/
-
Reserve a spot! Ave Maria!
+++