Ave Maria Meditations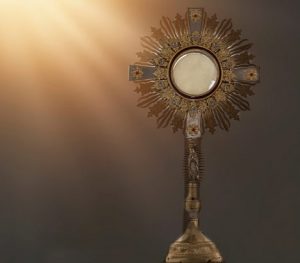 A Meditation from St. Peter Julian Eymard:
How is it that our Lord is so little loved in the Eucharist?
One reason is that we do not speak enough of it and that we insist only on faith in the presence of Jesus Christ in the Most Blessed Sacrament in­stead of speaking about His life and His love therein, instead of calling attention to the sacrifices which His love imposes upon Him, in a word, instead of showing Jesus Eucharistic with the personal and special love He has for each one of us.
Another reason is our behavior, which denotes little love in us. From the way we pray, adore, and visit Him, no one would suspect the presence of Jesus Christ in our churches.
How many among the best Catholics never pay a visit of devotion to the Most Blessed Sacrament to speak with Him from the heart, to tell Him their love I They do not love our Lord in the Eucharist because they do not know Him well enough. But if in spite of knowing Him and His love and the sacrifices and desires of His Heart, they still do not love Him, what an insult!
Yes, an insult!
For it amounts to telling Jesus Christ that He is not beautiful enough, not good enough, not lovable enough to be preferred to what they love.
What ingratitude!
After having received so many graces from this good Savior, made so many promises to love Him, and offered themselves so often to His service, such a treatment of Him is a mockery of His love.
What cowardice!
For if they do not want to know Him too well, to see Him at close quarters, to receive Him, to have a heart-to-heart talk with Him, the reason is they are afraid of being caught by His love. They fear being unable to resist His kindness; they fear being obliged to give in, to sacrifice their heart unreserv­edly, and their mind and life unconditionally.
They are afraid of the love of Jesus Christ in the Most Blessed Sacrament, and they avoid Him. They are disturbed in His presence; they are afraid of yielding. Like Pilate and Herod, they avoid His presence.