Ave Maria Meditations
"BE MERCIFUL EVEN AS YOUR FATHER IS MERCIFUL"   (Lk 6:36)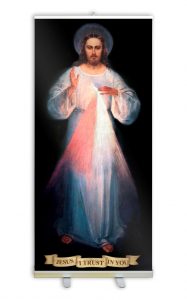 The Feast of the Divine Mercy is the Sunday after Easter
"Jesus Christ taught that man not only receives and experiences the mercy of God, but that he is also called 'to practice mercy' towards others. 'Blessed are the merciful, for they shall obtain mercy' (Mt 5:7). The Church sees in these words a call to action, and she tries to practice mercy …. Man attains to the merciful love of God, His mercy, to the extent that he himself is interiorly transformed in the spirit of that love towards his neighbor."
(John Paul II, Rich in Mercy, 14)
The Church teaches us to be merciful in various ways:
 THE CORPORAL WORKS OF MERCY
1. Feed the hungry.
2. Give drink to the thirsty.
3. Clothe the naked.
4. Shelter the homeless.
5. Comfort the imprisoned.
6. Visit the sick.
7. Bury the dead.
THE SPIRITUAL WORKS OF MERCY
1. Admonish sinners.
2. Instruct the uninformed.
3. Counsel the doubtful.
4. Comfort the sorrowful.
5. Be patient with those in error.
6. Forgive offenses.
7. Pray for the living and the dead.
Our Lord told St. Faustina in 1936 :My daughter, tell the whole world about My inconceivable mercy. I desire that the Feast of Mercy be a refuge and shelter for all souls, and especially for poor sinners. On that day the very depths of My tender mercy are open. I pour out a whole ocean of graces upon those souls who approach the fount of My mercy. The soul that will go to Confession and receive Holy Communion shall obtain complete forgiveness of sins and punishment. On that day are open all the divine floodgates through which graces flow.
Let no soul fear to draw near to Me, even though its sins be as scarlet. My mercy is so great that no mind, be it of man or of angel, will be able to fathom it throughout all eternity. Everything that exists has come forth from the very depths of My most tender mercy. Every soul in its relation to Me will contemplate my love and mercy throughout eternity.
The Feast of Mercy emerged from My very depths of tenderness. It is My desire that it be solemnly celebrated on the first Sunday after Easter. Mankind will not have peace until it turns to the Fount of My Mercy.
·         To observe this feast we should commence a Novena to the Divine Mercy on Good Friday, the Novena includes special intentions for each day and is concluded with the recitation of the Divine Mercy Chaplet.
·         Celebrate the feast on the first Sunday after Easter.
·         Come to Jesus with a humble and contrite heart, repent of all your sins.
·         Firmly trust in the Divine Mercy of Jesus.
·         Go to confession (with a priest) on that day if possible, otherwise seven days before or after the feast, as approved by the Church..
·         Receive Holy Communion on the Day of the Feast.
·         Venerate the image of Divine Mercy.
·         Be merciful as God is merciful. Practice works of Mercy, physically by helping others or spiritually by prayers of intercession.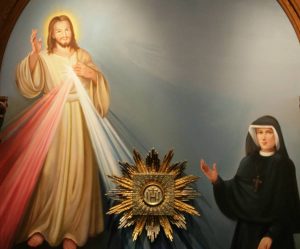 PRAYER TO BE MERCIFUL:
O Most Holy Trinity! As many times as I breathe, as many times as my heart beats, as many times as my blood pulsates through my body, so many thousand times do I want to glorify Your mercy. I want to be completely transformed into Your mercy and to be Your living reflection, O Lord. May the greatness of all divine attributes, that of Your unfathomable mercy, pass through my heart and soul to my neighbor.
Help me, O Lord, that my eyes may be merciful, so that I may never suspect or judge from appearances, but look for what is beautiful in my neighbors' souls and come to their rescue.
Help me, that my ears may be merciful, so that I may give heed to my neighbors' needs and not be indifferent to their pains and meanings.
Help me, O Lord, that my tongue maybe merciful, so that I should never speak negatively of my neighbor, but have a word of comfort and forgiveness for all.
Help me, O Lord, that my hands may be merciful and filled with good deeds, so that I may do only good to my neighbors and take upon myself the more difficult and toilsome tasks.
Help me, that my feet may be merciful, so that I may hurry to assist my neighbor, overcoming my own fatigue and weariness. My true rest is in the service of my neighbor.
Help me, O Lord, that my heart may be merciful so that I myself may feel all the sufferings of my neighbor. I will refuse my heart to no one. I will be sincere even with those who, I know will abuse my kindness.
And I will lock myself up in the most merciful Heart of Jesus. I will bear my own sufferings in silence. May Your mercy, O Lord, rest upon me.
You yourself command me to exercise the three degrees of mercy. The first: the act of mercy, of whatever kind. The second: the word of mercy – if I cannot carry out a work of mercy, I assist by my words. The third: Prayer – if I cannot show mercy by deeds or words, I can always do so by prayer. My prayer reaches out even there where I cannot reach out physically.
O my Jesus, transform me into Yourself, for You can do all things.
O Blessed Host, in golden chalice enclosed for me. That through the vast wilderness of exile. I may pass – pure, immaculate, undefiled: Oh grant that through the power of Your love this might come to be.
O Blessed Host, take up Your dwelling within my soul, O Thou my heart's purest love! With Your brilliance the darkness dispel. Refuse not Your grace to a humble heart.
O Blessed Host, enchantment of all heaven, Though Your beauty be veiled, And captured in a crumb of bread, Strong faith tears away that veil.