Ave Maria Meditations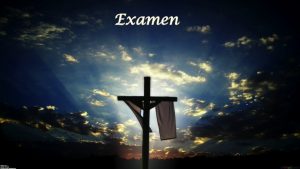 The Priest, Thomas A Kempis (Imitation of Christ), asks Jesus how he should prepare himself before Communion:
Thomas: O Lord, when I ponder Your greatness and my unworthiness, I am badly shaken and confused, for if I do not receive You in Holy Communion, I shun life, and if I receive You unworthily, I offend You. So, what shall I do, my God, my Helper, my Advisor in every need? Teach me the right way. show me what to do to prepare for Holy communion. It is important that I know how to ready my heart, that I may devoutly and reverently receive Your Sacrament for my well-being. It is important if I am to celebrate so great and sacred a Sacrifice.
+
(a good examination of conscience for anyone:)   Jesus: Above all a priest of God should come to celebrate, to handle and to receive this Sacrament with deep humility and profound reverence, with full faith and with the firm intention of honoring God.  Examine your conscience carefully, and cleanse and purify it as best you can by being truly sorry for your sins and humbly confessing them.  If you do so, nothing will weigh on your conscience and nothing will cause remorse that may keep you from Me.  Be sorry for all of your all your sins in general; in particular,  regret your daily offenses, and be especially sorry for them.
+
If you have time, confess to God in the secret recesses of your heart the pain that your failings have caused you. Bemoan and be full of sorrow that you are such a divided person, so alive to your passions, so full of lust, so volatile in your feelings, so entangled with foolish notions, so inclined to gratifying yourself, so neglectful of your inner life, so prone to the collapse of your moral resolve, so ready to avoid your own conscience, so ready to relax, so slow to rigor and zeal, so curious to listen to gossip and waste time, so remiss in embracing the humble and poor, so greedy in getting, so stingy in giving, so tight-fisted in keeping, so inconsiderate in what you say, so reluctant in keeping quiet, so undisciplined in behavior, so rash in what you do, so ready in eating, so deaf to God's word, so quick to rest, so slow to work, so awake to hear stories, so sleepy at vigils, so eager for devotion to end, so wandering in attention, so negligent in reciting the Office, so indifferent in celebrating Mass, so matter-of-fact in receiving Holy Communion, so quickly distracted, so seldom at one with yourself, so suddenly moved to anger, so easily offended by others, so prone to judge, so harsh in correcting others, so happy in good times, so depressed in bad times, so often making good resolutions, and reluctant in carrying them out.
+
After you have confessed these failings – and your others, too – and after you have felt sorry for them and have expressed great remorse, firmly resolve to change your life and do better. Then, by the complete resignation of your will, offer yourself to Me as a perpetual sacrifice on the altar of your heart. Faithfully entrust your body and soul to Me, so that you may become worthy to approach My altar to offer sacrifice to God and to receive the Sacrament of My Body for your salvation.
+
There is no offering more worthy – no satisfaction greater – for the washing away of sins than to offer yourself purely and completely to God at the same time that the Body of Christ is offered in the Mass and in communion. If a person does all that he can do and resolves from the very bottom of his heart to change his ways, then as often as he comes to Me for pardon and grace I shall give it to him, saying, "As I live, I do not want the death of a sinner. I want him to turn from his ways and live. I shall no longer remember his sins; all will be forgiven him."
+
With My hands outstretched on the cross and My body naked, I freely offered Myself to God the Father for your sins. Nothing was left in me that was not given to God.  In the very same way-with all your strength and love-you should willingly offer yourself to Me each day in the Mass in a pure and holy offering.
+
What more do I ask of you than yourself? I do not care at all for anything else that you may give Me. I do not seek your gift.  I seek you.  Just as it would not satisfy you to have anything but Me, so it does not please Me to have anything you may give, if you do not give yourself.  Offer yourself to Me and give your entire self to God. such an offering will be accepted.  Look, I offered all of Myself to the Father for you. I gave My entire Body and Blood for your food so that I might be all yours and you might be all Mine.  If you hold back and will not resign yourself to My will without having second thoughts, then your offering is not perfect nor will we become perfectly at one.
+
So, if you wish to achieve a free spirit and gain My grace, everything you do must be preceded by a spontaneous offering of yourself into the hands of God. This is why so few people become enlightened and inwardly free.  Most do not know how to give themselves to Me completely. I have said this, and I mean it: "Unless a person renounces all that he has, he cannot be My follower."  So, if you wish to be My disciple, give yourself to Me with your (whole heart).