Ave Maria Meditations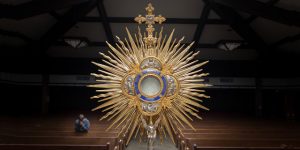 My beloved Jesus, I adore Thy Eucharistic Face, the radiance of which is my unfailing light in the shadows of this earthly exile. So long as Thou art with me, I will fear no evil. Thou art here, close to me, and I am here, close to Thee, to believe in Thee, to hope in Thee, to love Thee, and to adore Thee.
Apart from Thee I desire nothing on earth, and without Thee, what is heaven? Here in Thy Eucharistic presence is heaven on earth. Here is the joy eternal of all the angels and blessed. Here is the fulfillment of the longing in hope that burns like a fire in the souls of purgatory.
Here is the heart of the Church on earth and the glory of the Church in heaven. Here is the stupendous miracle of Thy love for us: Thy abiding presence as the Lamb who was slain, and the triumph of the cross and resurrection.
Why, then, art Thou left alone in this most holy Sacrament? Why art Thou  forsaken in Thy tabernacles? Why art Thy churches empty or so rarely visited? Revealed Thyself again in the Sacrament of Thy love! Make known Thy presence here to those who doubt, to the ignorant, the indifferent, and the cold hearted.
Draw all–baptized and unbaptized–into the radiance of Thy Eucharistic Face, and let not a single soul escape the embrace of Thy Eucharistic friendship. This wilt Thou satisfy Thy own thirst for the faith and love of our souls; and thus wilt Thy satisfy Thine own heart longing for the love of the hearts which Thou hast created for Thyself and for no other. Amen.
A Benedictine Monk