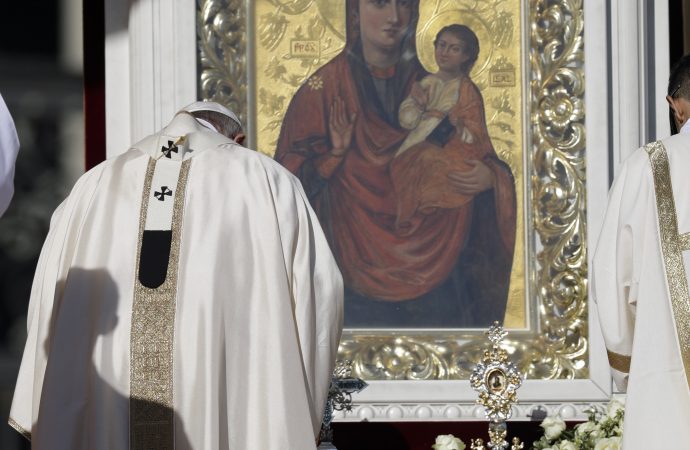 Ave Maria!  In this article from crux.com, Vatican correspondent Inés San Martín describes the intensely Marian celebration at Trujillo, Peru, where Pope Francis linked honoring Mary with protecting women today from violence.  Ms. San Martín then goes on to provide a description of publicly known events in Pope Francis' Marian devotion.
Pope Francis on Saturday displayed yet another example of his love affair with the Virgin Mary, presiding over a Marian celebration in Peru's "city of the eternal spring," where popular Catholic devotion is nearly ubiquitous and people proudly display their devotion to the Mother of God.

The pontiff linked the love affair with the Virgin with women's issues today.

In Trujillo, Francis spoke against the "scourge that affects our American continent: cases of femicides, and the many situations of violence that are kept quiet behind so many walls."

The pontiff called for a fight against this suffering through legislation, and a culture that "repudiates every form of violence."
. . . "Mary," Francis said, "shows us the way home. She brings us to Jesus, who is the Gate of Mercy."

Francis's love affair with Our Lady is well documented, and it began long before Father Jorge Mario Bergoglio was made a bishop: In 1990, the future pope gave up TV because of a promise he made to the Virgin of Carmel.

After he was appointed archbishop of Buenos Aires, in Argentina, he'd participate in a massive pilgrimage to the shrine of Our Lady of Lujan, patroness of his country. Before and after every foreign trip today, he visits Rome's Basilica of St. Mary Major to venerate the famous icon of Our Lady known as Salus Populi Romani (protectress of the Roman people).
Source: Pope's love affair with Mary adds new chapter Saturday in Peru