Ave Maria!
Another national consecration to the Blessed Virgin Mary. It was the Philippines last week. Now a whole region, Lebanon and all the Middles East, where Catholics are suffering greatly and Mary is a great sign of hope for both the perseverance of Christians and the conversion of Muslims.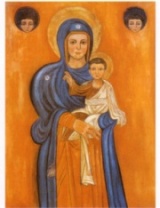 On Sunday, 16 June in Lebanon the entire Episcopate of Lebanon, along with their Papal Nuncio and  all the Catholic Patriarchs of the Middle East will gather in Harissa, the National Shrine of Our Lady of Lebanon to solemnly Consecrate Lebanon and the Middle East to the Immaculate Heart of the Blessed Virgin Mary.The Text of the Act of Consecration which will be prayed by all present led by all the Catholic Episcopate of Lebanon and all the Catholic Patriarchs of the Middle East following solemn Holy Mass follows below:All of the Church in Lebanon has been preparing for this great spiritual moment, An Image of Our Lady in the past 40 days has traveled to every Parish in Lebanon. Every Parish in Lebanon will be united with the Mass and Act of Consecration tomorrow in a great union of prayer. Christians in the Lebanon are appealing for Christians around the world to join them in prayer.
The Consecration text follows below:
Act of Consecration of Lebanon and the Middle East to the Blessed Virgin Mary
Most Holy Virgin Mary, Mother of God and our Mother, You have been chosen by God Our Father, through the action of the Holy Spirit, to become the Mother of His Incarnate Son; You lived perfectly the obedience of faith, united, by your motherhood, to Your Son Jesus, by an indissoluble bond, thus listening to His words, treasuring up all these things and pondering them in Your heart; You accompanied Him throughout His early life in Nazareth, where He was growing in wisdom and stature and in favor with God and man; You interceded with Him in Cana of Galilee, You suffered with Him in Your motherly heart on the foot of the Cross and participated in the redemption that He accomplished, He, the only Redeemer of the world, for the sake of the entire humanity in every time and place.
via Solemn Consecration of Lebanon & Middle East to Blessed Virgin Mary on Independent Catholic News.