Ave Maria!
Now I've heard it all. Next thing you know they'll be saying real men eat quiche!! Who ever heard of men praying the rosary?!
Answer: here at the Franciscan of the Immaculate and at all our lay associations. We have been pushing the praying of the rosary for everyone, men and women, old and young, rich and poor, sick and healthy … everyone! But its true that men can use a little extra encouragement in this regard and this book seems to fit the bill.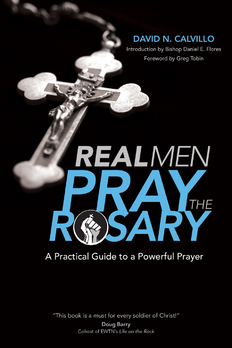 Real Men Pray the Rosary

A Practical Guide to a Powerful Prayer

By David Calvillo

160 pages, $12.95

Ave Maria Press, 2013

To order: avemariapress.com or (800) 282-1865, ext. 1

I never thought of the Virgin Mary as my personal trainer.

At least not before I read this book.

David Calvillo wants all you guys out there to get spiritually fit with Mary.

And he believes that the Rosary is the best spiritual workout: "You could get off the couch, drive to the gym and work your quadriceps. While that effort would be good, or at least healthier than lying on the couch, it would be even more productive to sit with a trainer and be led through an organized and time-tested workout designed to strengthen and tone all of the muscle groups. Such is the Rosary.

"Individuals who pray the Rosary regularly can call on Mary's intercession as a spiritual trainer to not just lead them in one isolated workout, but, rather, to engage them to contemplate the span of the Christian Good News in an organized way.

"Just like the couch potato who, over time, works off years of inactivity through systematic exercise, so also our prayer life grows and gains muscle tone."

Calvillo, founder of the Real Men Pray the Rosary apostolate, argues with the zeal of a convert that the Rosary is a guy's prayer (and why women should care). He credits the Rosary as the reason he learned to take his own faith seriously.

While the Rosary is sometimes associated with women, this book is suffused with a modern man's spirituality, a modern man's feel and a modern man's way of thinking. Think of a very modern, very tough, very tested man's man — Blessed John Paul II — in a parka atop a mountain he scaled, climbing tools at hand, shades on his eyes over a tanned, relaxed face … praying the Rosary.