Ave Maria!
As Franciscans of the Immaculate with our website AirMaria where we provide online video that is Catholic, Franciscan and Marian, we just have to rejoice when we see articles like this in a major Catholic news paper describing Pope Francis as very Marian: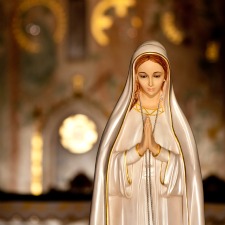 BY CARLOS CASO-ROSENDI Monday, Mar 25, 2013 – It seems like yesterday when the news of the abdication of our beloved Benedict shocked the world. It was Feb. 11, the feast day of Our Lady of Lourdes. I think that was a significant date, full of meaning, and definitely a Marian date.
The news came to me as I sat at my computer early in the morning, Buenos Aires time. The "Pope Resigns!" headlines woke me up before I could take the first sip of my morning coffee. I started making quick calculations. A glance at the calendar revealed March 13 as a possible date for something big.
The 13th of each month is the day of the Mystical Rose, Our Lady, Queen of Priests. Since the priesthood in the Church is in sore need of healing these days, it seemed natural (or rather supernatural) that a new pope, a Marian pope, would be called to be Vicar of Christ on that day.
When the conclave began March 12, I knew in my heart it was going to be short — and the white smoke on the second day did not surprise me at all. When I learned it was Cardinal Bergoglio, that was no surprise either. And when I heard the name Francis, I said to myself: "Of course!" Here in Buenos Aires, we know him as the archbishop who takes the bus to work, cooks his own meals and talks to everyone in his own folksy manner.
Pope Francis is Peter, a fisher of men, for our times. But I expect him to spend more time working on the nets than holding the helm. His favorite kind of net is prayer, and his guide is Mary, the Morning Star.