Ave Maria! Linda Andrade Rodrigues of South Coast Today (online version of New Bedford's Standard Times) published an article about us today, St. Maximilian Kolbe's Feast Day. She had many kind words about us and Mother Teresa's Order in New Bedford. We will have to explain to her,  though, that we are not quite ready for canonization. Thanks, Linda!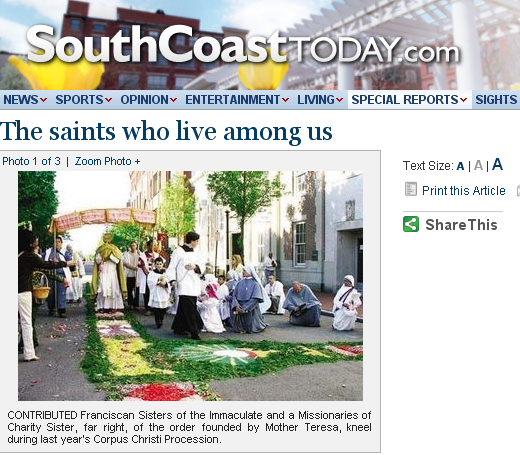 The saints who live among us | SouthCoastToday.com.
By LINDA ANDRADE RODRIGUES
lrodrigues@s-t.com
August 14, 2010 12:00 AM
NEW BEDFORD — Trappist monk and author Thomas Merton wrote, "Oh my God! You see what a barren and desolate place this world is —- send us saints!"
The answer to his prayers, our city is blessed by the good works of saints.
Walk along our streets, and you'll see Mother Teresa's nuns in their white and striped-blue habits, ministering in our neighborhoods.
Blessed Mother Teresa of Calcutta sent her order, the Missionaries of Charity, to New Bedford, and on June 14, 1995, she visited the city, worshipped at the Church of St. Lawrence Martyr and touched the lives of countless SouthCoast residents.
Dressed in simple gray robes with sandaled feet, the Franciscan Friars of the Immaculate reach out to this city's homeless and forgotten, and offer spiritual guidance to a constant stream of strangers who wander through the doors of Our Lady's Chapel in downtown New Bedford. More …