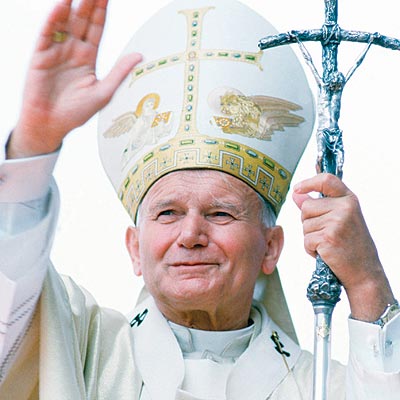 I set off in search of the source of my vocation. It is beating there … in the Upper Room in Jerusalem. I thank God that during the Great Jubilee of the Year 2000 I was able to pray precisely there-in the Upper Room (Mark 14:15), where the Last Supper took place.
THE SOURCE OF MY VOCATION
by The Servant of God, Pope John Paul II
I transport myse1f in thought to that memorable Thursday when Christ, having loved his own to the end (Jn.13:1), instituted the Apostles as priests of the New Covenant. I see Him bending down before each of us, succesors of the Apostles, to wash our feet. I hear Him, as if He were speaking to me-to us-these words: "Do you realize what I have done for you? You call Me 'Teacher' and 'Master,' and rightly so, for indeed I am. If I, therefore, the Master and Teacher, have washed your feet, you ought also to wash one anothers feet. I have given you an example to follow, so that as I have done for you, you also should do" (John 13:12-16).
Together with Peter, Andrew, James, and John … let us continue to listen: "As the Father has loved Me, so I have loved you. Remain in My love! If you keep My commandments, you will remain in My love, just as I have kept My Father's commandments and remain in His love. I have told you this so that My joy might be in you and your joy might be complete. This is My commandment: love one another as I have loved you. No one has greater love than this, to lay down ones life for ones friends. You are My friends if you do what I command you" (Jn 15:9-14).
Is not the mysterium caritatis of our vocation contained in these sayings? These words of Christ, spo­ken at the hour for which He had come (Jn.12:27), are at the root of every vocation in the Church. From them flows the life-giving sap that nourishes every vocation: those of the Apostles and their suc­cessors, but also every other vocation, because the Son wishes to be a friend to everyone: because He gave His life for all. Here we find what is most important, most valuable, and most sacred: the love of the Father and the love of Christ for us, His and our joy, and also our friendship and fidelity, which ex­press themselves in the fulfillment of the commandments.
These words also contain the goal and the meaning of our vocation: to "go and bear fruit that will last" (Jn 15:16). The bond of love unites all things; substantially it unites the Divine Persons, but on a different level it also unites human beings and their different vocations. We have entrusted our life to Christ, who loved us first and, as the Good Shepherd, offered His life for us.
The Apostles heard Christ's words and applied them to themselves as their personal vocation. So too we, their successors, shepherds of Christ's Church, cannot but feel impelled to be the first to respond to this love, faithfully fulfilling the commandments and offering our life every day for the friends of our Lord. "The good shepherd lays down his life for the sheep" (John 10:11).
In the homily I preached in Saint Peter's Square on October 16, 2003, on the occasion of the twenty-fifth anniversary of my pontificate, I said: "While Jesus was saying these words, the Apostles did not realize that He was referring to Him­self. Not even His beloved Apostle John knew it. He understood on Calvary, at the foot of the Cross, when he saw Jesus silently giving up His life for 'His sheep.'
When the time came for John and the oth­er Apostles to assume this same mission they then remembered His words. They realized that they would be able to fulfill their mission only because he had assured them that He Himself would be work­ing among them. "You did not choose Me, but I chose you and appointed you to go and bear fruit that will last" (Jn.15:16). Not you, but I!-says Christ. This is the foundation of the efficacy of a bishop's pastoral mission.
"Always be faithful to an intense interior life, nourished above all by the celebration of the Holy Mass, Eucharistic devotion and daily meditation.  Only through the Eucharist is it possible to maintain the innocence of children, the purity of the young, matrimonial chastity and fidelity, priestly and religious consecration"