by JosephMary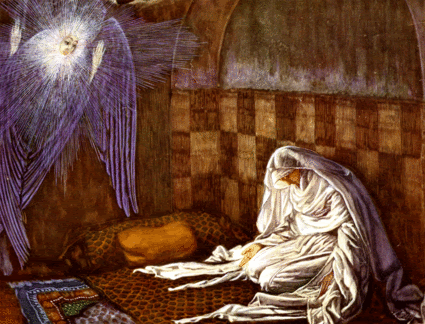 You have heard, O Virgin, that you will conceive and bear a son; you have heard that it will not be by man but by the Holy Spirit. The angel awaits an answer; it is time for him to return to God who sent him. We too are waiting, O Lady, for your word of compassion; the sentence of condemnation weighs heavily upon us.
The price of our salvation is offered to you. We shall be set free at once if you consent. In the eternal Word of God we all came to be, and behold, we die. In your brief response we are to be remade in order to be recalled to life.
Tearful Adam with his sorrowing family begs this of you, O loving Virgin, in their exile from Paradise. Abraham begs it, David begs it. All the other holy patriarchs, your ancestors, ask it of you, as they dwell in the country of the shadow of death. This is what the whole earth waits for, prostrate at your feet. It is right in doing so, for on your word depends comfort for the wretched, ransom for the captive, freedom for the condemned, indeed, salvation for all the sons of Adam, the whole of your race.
Answer quickly, O Virgin. Reply in haste to the angel, or rather through the angel to the Lord. Answer with a word, receive the Word of God. Speak your own word, conceive the divine Word. Breathe a passing word, embrace the eternal Word.
Why do you delay, why are you afraid? Believe, give praise, and receive. Let humility be bold, let modesty be confident. This is no time for virginal simplicity to forget prudence. In this matter alone, O prudent Virgin, do not fear to be presumptuous. Though modest silence is pleasing, dutiful speech is now more necessary. Open your heart to faith, O blessed Virgin, your lips to praise, your womb to the Creator. See, the desired of all nations is at your door, knocking to enter. If he should pass by because of your delay, in sorrow you would begin to seek him afresh, the One whom your soul loves. Arise, hasten, open. Arise in faith, hasten in devotion, open in praise and thanksgiving. Behold the handmaid of the Lord, she says, be it done to me according to your word.
This excerpt from a homily 'In Praise of the Virgin Mother' by St. Bernard
St. Louis Marie de Montfort's Prayer to Mary :
Hail Mary, beloved Daughter of the Eternal Father. Hail Mary, admirable Mother of the Son. Hail Mary, faithful Spouse of the Holy Ghost. Hail Mary, my Mother, my loving Mistress, my powerful sov?ereign.
Hail, my joy, my glory, my heart and my soul. Thou art all mine by mercy, and I am thine by jus?tice. But I am not yet sufficiently thine, I now give myself wholly to thee without keeping anything back for myself or others. If thou seest anything in me which does not belong to thee, I beseech thee to take it and make thyself the absolute Mistress of all that is mine.
Destroy in me all that may displease God; root it up and bring it to nought. Place and cultivate in me everything that is pleasing to thee. May the light of thy faith dispel the darkness of my mind. May thy profound humility take the place of my pride; may thy sublime contemplation check the distractions of my wandering imagination. May the continuous sight of God fill my memory with His presence; may the burning love of thy heart inflame the luke?warmness of mine. May thy virtues take the place of my sins; may thy merits be my only adornment in the sight of God and make up for all that is wanting in me.
Finally, dearly beloved Mother, grant, if it be possible, that I may have no other spirit but thine to know Jesus, and His Divine Will; that I may have no other soul but thine to praise and glorify God; that I may have no other heart but thine to love God with a love as pure and ardent as thine.
I do not ask thee for visions, revelations, sensi?ble devotions, or spiritual pleasures. It is thy privi?lege to see God clearly, it is thy privilege to enjoy heavenly bliss; it is thy privilege to triumph glori?ously in heaven at the right hand of thy Son and to hold absolute sway over angels, men and demons. It is thy privilege to dispose of all the gifts of God, just as thou willest. Such, 0 heavenly Mary, the 'best part', which the Lord has given thee, and which shall never be taken away from thee – and this thought fills my heart with joy.
As for my part here below; I wish for no other than that which was thine, to believe sincerely without spiritual plea?sures, to suffer joyfully without human consolation, to die continually to myself without respite, and to work zealously and unselfishly for thee until death, as the humblest of thy servants. The only grace I beg thee, for me, is that every moment of the day, and every moment of my life, I may say "Amen, so be it, to all that thou art doing in heaven. Amen, so be it, to all thou didst do while on earth. Amen, so be it, to all thou art doing in my soul, so that thou alone mayest fully glorify Jesus in me for time and eternity. Amen.