From Ave Maria Meditations
by JosephMary????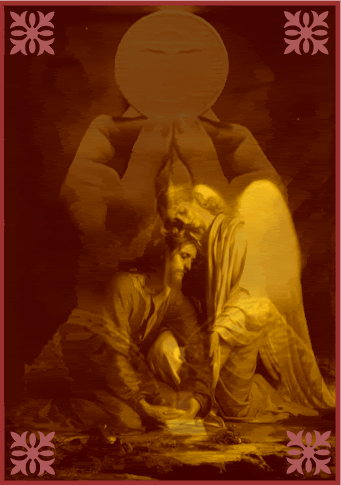 All is perfect in the sacrifice of Jesus??the love that inspires it and the liberty with which He accomplishes it. Perfect, too, in the gift offered for Christ offers Himself. Christ offered the whole of Himself; His soul and body were bruised and broken by suffering; there is no suffering that Jesus has not known. If we read the Gospel attentively, we see that the sufferings of Jesus were ordered in such a way that no member of His Sacred Body was spared; there was no fiber of His Heart but was torn by the ingratitude of the multitude, by being forsaken by His own disciples, and by the sorrows of His Mother. He underwent all the outrages and humiliations wherewith a man can be oppressed. He fulfilled to the letter the prophecy of Isaias: Many have been astonished at Thee, so shall His visage be inglorious among men … There was no sightliness that we should be desirous of Him and we have thought Him as it were a ?leper, and as one struck by God and afflicted. ( Is 52:14; 53:2-4)
I spoke just now of the Agony in the Garden of Olives. Christ, Who exaggerates nothing, reveals to His Apostles that His innocent soul is now oppressed with sadness so poignant and bitter that it is enough to cause His death: My soul is sorrowful even unto death. ( Mt 26:38; Mk 14:34) What an abyss! A God, Infinite Power and Beatitude, is overcome by sadness, fear and heaviness: He began to fear and to be heavy ( Mk 14:33) and to be sad. (Mt 26:37). The Word Incarnate knew all the sufferings that were to fall upon Him throughout the long hours of His Passion. This vision awoke in His sensitive nature all the repulsion that a simple creature would thereby have experienced; in the Divinity to which it was united, His soul saw clearly all the sins of mankind, all the outrages committed against God's holiness and infinite love.
He had taken upon Himself all these iniquities; He was, as it were, clad with them.? He felt all the wrath of divine justice weigh upon Him: I am a worm and no man, the reproach of men and the outcast of the people. (Ps 21:7) He foresaw that for many men His death would be shed in vain, and this sight brought the grief of His blessed soul to its climax. ?But, as we have seen, Christ accepted all. He now arises, and goes forth from the garden to meet His enemies.
It is here that this series of humiliations and sufferings, which we can scarcely?describe, begins for Our Lord. Betrayed by the kiss of one of His Apostles, bound by the soldiery as a malefactor, He is led before the high priest. There He holds His peace in the midst of the false accusations brought against Him: but He held His peace. (Mk. 14:15; Mt 26:63) He only speaks in order to declare that He is the Son of God: thou hast said it, I am. (Mt 26:64) This profession is the most solemn that has ever been made to the Divinity of Christ Jesus,? the King of Martyrs, dies for having confessed His Divinity, and all the martyrs were to give their lives for the same cause.
Peter the chief of the apostles, had followed his Divine Master afar off; he had promised never to forsake Him. Poor Peter! We know how he thrice denied Jesus. For Our Lord, this was doubtless one of the deepest pains of that terrible night.
The soldiers set a guard round Jesus and load Him with insults and cruel treatment. Not being able to bear His gentle gaze, they blindfold Him in derision; they insolently strike Him; they dare to defile with their filthy spittle that Adorable Face whereof the contemplation ravishes the angels. The Gospel next shows us how Jesus, from break of day, is dragged from tribunal to tribunal; how He is treated by Herod as a fool, He, Eternal Wisdom, and scourged by order of Pilate; the executioners pitilessly strike their innocent Victim Whose body is soon but one wound. And yet this cruel scourging does not suffice for these men who do not deserve the name of men; they press a?crown of thorns upon the head of Jesus and make Him the butt of their mockeries.
The cowardly Roman governor imagines that the Jews' hatred will be satisfied in seeing Christ in such a pitiable state; he presents Him to the crowd: Behold the Man …! (Jn 19:5) Let us at this moment behold Our Divine Master plunged in this abyss of sufferings and ignominies, and let us think that the Father, He too, presents Him to us and says to us: Behold My Son, the splendour of My glory – but for the wickedness of My people have I struck Him. (Is 53:8)
Jesus hears the clamor of the furious populace who prefer a brigand before Him and, in return for all His benefits, demand His death: crucify Him, crucify Him! (Jn. 19:6;19:15) The sentence of death is then pronounced, and Christ, taking His heavy cross upon His lacerated shoulders, sets out on the way to Calvary.
What sorrows are yet reserved for Him! The sight of His Mother whom He so tenderly loves, she whose immense affliction He understands as none other can; the being stripped of His garments, the piercing of His Hands and Feet, the burning thirst. Then the malignant sarcasms of His most mortal foes. Vah! thou that destroyest the temple of God, save thy own self; we will believe thee …; He saved others; Himself he cannot save. ( Mt27:40-42; Mk 15:29-32; Lk 23:35) Finally, the abandonment by His Father Whose holy will He has ever done: My God, My God, why hast Thou forsaken Me! ( Mt 27:46; Mk 15:34)
He has truly drunk the chalice to the dregs, He has fulfilled to the last iota, that is to say, to the least detail, all that was foretold of Him. Thus, when all is accomplished, when He has exhausted to the depths every sorrow and every humiliation, He can utter His it is consummated. Yes, all is consummated: He has now only to give up His soul to His Father: and bowing down His head, he gave up the Ghost. (Jn 19:30)
When the Church, during Holy Week, reads us the account of the Passion, she interrupts herself at this place, in order to adore in silence. Like her, let us fall down in adoration before the Crucified Who has just breathed forth His last sigh; He is truly the Son of God: true God of true God. [Credo of the Mass. ] Let us take part, on Good Friday, in the solemn adoration of the Cross, which, in the spirit of the Church, is intended to repair the numberless outrages heaped upon the Divine Victim by His enemies upon Golgotha.?
Christ' s sacrifice, begun at the moment of the Incarnation, is now achieved. From the side of Jesus flow the streams of living water which are to purify and sanctify the Church.
–
Dom Columba Marmion
And I, if I be lifted up from the earth, will draw all things to Myself. Let us think on this infallible promise of our Supreme High Priest when we gaze on the crucifix: it is the source of most absolute confidence. If Christ died for us while we were His enemies, what graces of forgiveness, of sanctification can He refuse us, now that we detest sin, and strive to detach ourselves from the creature and from ourselves, so as to please Him alone? O Father, draw me to the Son!… 0 Christ Jesus, Son of God, draw me entirely to Thee …