Ave Maria!
Fr. Tim Finigan who authors the acclaimed blog Hermeneutics of Continuity did a post on the devotion, A Day with Mary at his parish in Blackfen, England. A Day with Mary is?an apostolate which the Franciscans of the Immaculate are very much involved as part of our lay association Mission of the Immaculate Mediatrix (MIM).
Below is the Eucharistic procession around the parish block with clouds of incense.
?
Below you can see FI Brothers and Sisters from our houses in London leading the way.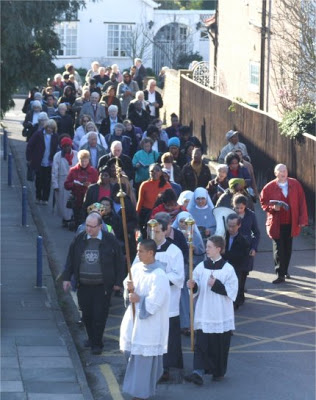 You can get a better idea of what a Day with Mary at a parish is like by viewing the Video – FI News – A Day With Mary in Providence, RI?here on AirMaria. Actually we have ample resources on our various FI websites about this worldwide devotion. Our Italian site has dates and places for?the devotion in Italy and England?and Singapore. England is?where it was started by Claudio LoSterzo and now takes place in a different parish every weekend, some with over 1000 people attending. It then?spread to Italy, USA, Australia, Philippines, Nigeria and Brazil and thus takes place on all six continents. You can read more about it at Marymediatrix.com??
The next one in the USA will be at our friary here in Griswold, CT this Saturday, Feb 16
Other Day with Mary events captured on the web:
And many more
Ave Maria!