Ave Maria Meditations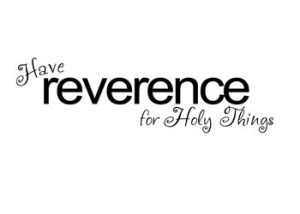 My King, reverence for holy things is a beautiful virtue. It is part of the virtue of humility and justice because it is seeing things as they are and giving all their due.
How truly reverent I should be in the presence of the Blessed Sacrament! Why every action should show how much You are to be honored and praised. I should reference sacred objects to: the Crucifix, blessed articles, etc. Somehow they all speak of You and that very association makes them honorable… Reverence (is) another way of loving.
from the Confraternity of the Precious Blood.