Ave Maria Meditations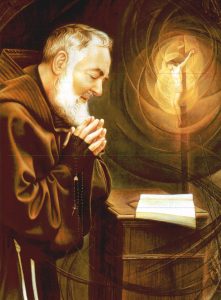 Let us always keep before our eyes the fact that here on earth we are on a battlefield and that in paradise we shall receive the crown of victory; that this is a testing ground and the prize will be awarded up above; that we are now in a land of exile, while our true homeland is Heaven to which we must continually aspire.
Let us live, then, with a lively faith, a firm hope and an ardent love, with eyes fixed on Heaven and the kindest desire, as long as we are travelers, to dwell one day in Heaven whenever this is pleasing to God. Let us keep our thoughts, I say, continually fixed on Heaven, our true homeland of which this earth is merely an image.
Yes, serene in our faith and tranquil in soul let us pray and continue to pray, because intense and fervent prayer pierces the heavens and is backed up by a divine guarantee.
Saint Padre Pio