Ave Maria Meditations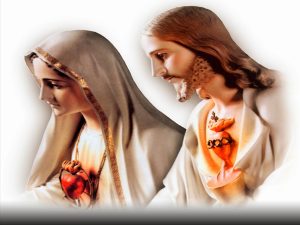 Mary's love for mankind was so great that Venerable Pope Pius XII did not hesitate to link her love in as intimate a manner as possible with that of the Son of God. "By the will of God," he wrote, "the most blessed Virgin Mary was inseparably joined with Christ in accomplishing the work of man's redemption, so that salvation flows from the love of Jesus Christ and His sufferings, intimately united with the love and sorrows of His Mother."
Mary's love is the most perfect reflection of the love of the God-Man possible in a human being. So perfect is the union of these two hearts that we now use the expression, the Sacred Hearts of Jesus and Mary. If one is deeply moved by the love of the Son, one cannot fail also to be moved by that of the Mother. One must respond with gratitude to the one as to the other.
This is why the same Pontiff wrote: "It is, then, highly fitting that after due homage has been paid to the most Sacred Heart of Jesus, Christian people who have obtained divine life from Christ through Mary manifest similar piety and the love of their grateful souls for the most loving Heart of our heavenly Mother."
+ Fr. Bertrand Weaver, C.P.