Ave Maria Meditations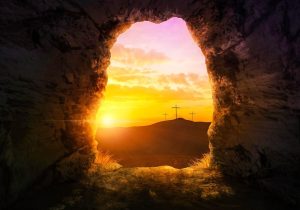 Unless there is a Good Friday in our lives there will never be an Easter Sunday. The Cross is the condition of the empty tomb, and the Crown of Thorns is the preface to the halo of light. When all is said and done, there are only two philosophies of life. One is first the feast, then the hangover; the other, first the fast and then the feast.  Deffered joys purchased by sacrifices are always sweetest and most enduring.
Christianity begins not with sunshine but with defeat. Sunshine religions that begin with psychic elation, often end in disillusionment and despair. So essential is dying to self the prelude to the true life of self, that there were three monumental attempts to force Christ to abandon His Cross.
If we leave the Cross out of the life of Christ, we have nothing left, and certainly not Christianity. For the cross is related to our sins. Christ was our "stand in" on the stage of life. He took our guilt as if He were guilty and thus paid the debt that sin deserved, namely, death. This made possible our resurrection to a new life in Him.
Christ, therefore, is not just a teacher or a peasant revolutionist, but our Savior. Our modern world does not like the word "sin". What is forgotten is that sin is not the worst thing in the world. The worst thing is the denial of sin. If I am blind and deny there is any such thing as light, I shall never see. If I am deaf and deny sound, I shall never hear. And if I deny there is sin, I make forgiveness impossible.
Venerable Fulton Sheen