Ave Maria Meditations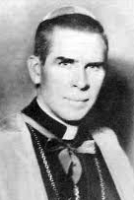 I believe that the whole political and religious situation of the world can be summed up in terms of the divorce of Christ and His Cross. Put the crossless Christ on the right side, and the Christless cross on the left. Who picks up the crossless Christ? Our decadent Western civilization. Christ is weak, effeminate, with no authority to drive buyers and sellers out of temples, and never speaks of self discipline, restraint and modification.
Who picks up the Christless cross? (Communists) and China, where there is a dedication to a common ideology, the use of discipline and authority to keep peace in order. But neither can heal. The crossless Christ leaves men burdened with their guilt which festers in a thousand psychosis and neurosis. The Christless cross cannot save for it ends in Dachau, the Gulag Archipelago, and the squeezing of the millions of lives like grapes to make the collective wine of the state.
Which will first find Christ with the Cross? The totalitarian States to have the cross without love, or the western world which has love, so often erotic, without sacrifice? We do not know. But we do know that at the end of time, when the great conflict between the forces of good and evil takes place, satan will appear without the cross, as the great philanthropist and social reformer to become the final temptation of mankind.
Venerable Fulton Sheen