Ave Maria Meditations:   Do you have a weekly hour of Adoration of Jesus in the Blessed Sacrament?  If not, Lent would be an ideal to start!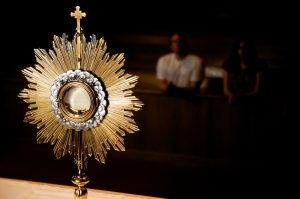 Jesus is our Divine Physician who heals our souls. Jesus is our Divine Cardiologist who heals our hearts with the infinite love of His Sacred Heart. We know that nothing can heal our brokenness more than a realization of God's unconditional love for us.
No one is more welcomed; no one is more invited, no one is more desired in an hour of Eucharistic adoration than you. Jesus is waiting just for you. Jesus is calling you. Where the Eucharist is exposed, one finds miracles of spiritual, emotional, psychological and even bodily healing. Where the holy Eucharist is exposed is the greatest miracle of all: the moral conversion and reconversion of the hardened hearts of sinners.
Is it possible to be exposed hour after hour to the radical and unconditional love of God and fail to have one's heart softened by the fire of God's love? This is the time of Eucharistic triumph! The Eucharistic kingdom of God is at hand. Repent, believe in the gospel!
From the Eucharistic Adoration Rosary by Father Louis Guardiola C. P. M