Ave Maria Meditations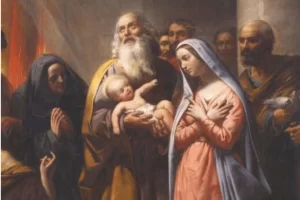 Mary and Joseph, taking the Child, went up to the temple in Jerusalem and carried out the prescriptions of the law. Mary's was entirely an external redeeming, where she knew well that she was buying Jesus back only to sacrifice Him more completely on the cross.
While in the temple, they met a devout man named Simeon to whom the Holy Spirit had revealed that he would not die before seeing the Messiah. Prompted by the Holy Spirit he recognized the long-awaited Savior in Jesus. Mary allowed him to take Jesus in his arms.
As he did so, he explained: "For my eyes have witnessed Your saving deed displayed for all the peoples to see a revealing light to the Gentiles, the glory of Your people Israel."
Then he continued: "This Child is destined to be the downfall and the rise of many in Israel, a sign that will be opposed and you yourself shall be pierced with a sword so that the thoughts of many hearts may be laid bare" (Lk 2: 34-35).
Mary has her child her arms again, but it is to offer Him in sacrifice. The Light of the world entered into the temple at Jerusalem and to celebrate this entry, the Church has prescribed a procession with lighted candles. The temple was filled with glory and the Lord of hosts gave peace to the world when Mary carried her Son up to the temple to present Him to the Lord. Candles are blessed on this day, a symbolic representation of the words of Simeon concerning Christ: "A revealing light to the Gentiles." A procession of the faithful with lighted candles is held to commemorate the entry of Christ, the Light of the world, into the temple of Jerusalem. Mary's participation in the redeeming mission of her Son is expressed in the words of Simeon: "You yourself shall be pierced with a sword."
From the Complete Marian Prayerbook