Ave Maria Meditations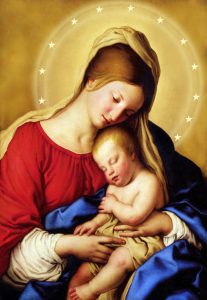 He chose His Mother. When we reflect upon the joy which it is to ourselves to think of Mary, to brood upon her supernatural loveliness and to study of the greatness of her gifts and the surpassing purity of her virtues, we shall get such a faint idea as lies within our compass of the unspeakable gladness which it must have been to the Word to have chosen Mary and to have created her through that very choice.
He must choose a mother who shall be worthy of being the Mother of God, a mother suitable to that tremendous mystery of the Hypostatic Union, a mother fitted to minister that marvelous Body out of her own heart's blood, and to be herself for months the tabernacle of that most heavenly Soul.
All God's works are in proportion. When He appoints an office, His appointment is marked by extreme fitness. He elevates nature to the level of His own purposes. He enables it to compass the most supernatural destinies by filling it with the most incredible graces.  There was no accident about His choice of Mary.  She was not merely the holiest of living women on earth at the time when He resolved to come. She was not a mere tool, an instrument for the passing necessity of the hour to be used and flung aside. That is not God's way. There is nothing accidental or of mere ornament in the works of the Most High.
She was the choice of God Himself and He chose her to be His Mother. She was the gate by which the creator entered into His own creation. She ministered to Him in a way and for an end unlike those of any other creature whatsoever. What then must have been her beauty, what her holiness, what her privileges, what her exultation! To depreciate them is to depreciate the wisdom and the goodness of God.
+Fr. F.W. Faber