Ave Maria Meditations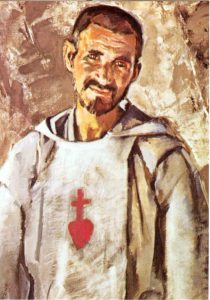 Every cross, great or small, every discomfort even, is an appeal from our Beloved, asking us to declare our love and go on doing so while the cross lasts. When we think of it like this, could we not wish that our cross could last forever? It will last as long as Jesus wishes. However sweet it may be, however greatly loved, we desire it only as long as it is Jesus wills for us. Your will, not ours, Brother Jesus! As for ourselves we should think no more of ourselves… we should think only of You, our Beloved Spouse.
We want not what seems good to us, but what is good to You. We have nothing for ourselves; all we ask is Your glory. Hallowed be Thy Name; Thy kingdom come; Thy will be done in Your children, in all men. May these things be done in us. May we give all possible glory to You throughout our lives. May we do Your will, may we give all possible solace to Your Heart. That is all we want and all we need. We are here at Your feet, do with us as You will, whatever it may be, do it according to Your will. We have no will, no wish except to fulfill Your will, to do what seems good to You.
St. Charles de Foucauld  (Feast Day is December 1st)