Ave Maria Mediations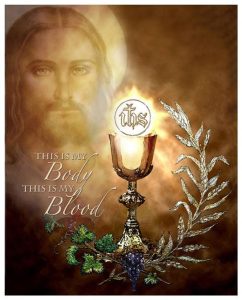 Jesus is "Always living to make intercession for us," says Saint Paul (Heb 7:25). He is living in the most holy Sacrament of the Altar and He is living in heaven where, seated in glory at the right hand of the Father, He shows Him the reddened wounds of His passion thereby making continual intercession for us. In addition, "He is Himself choosing, determining, and distributing graces to each one according to the measure of His gift" (Mysticism Corporis).
Christ is then, in the fullest sense, in the most actual sense, the source of all our life. "Christ is our life" (cf Col 3:4).
Prayer:  O Jesus my dearest Redeemer, if I could not follow You along the roads of Palestine, if I cannot behold You in heaven where You are seated in glory at the right hand of Your Father always interceding for me, I can, nevertheless, every time I so desire, find You living in the most holy Sacrament of the Altar. What an immense gift you have bestowed on me by leaving Your sacred humanity in the Holy Eucharist!
As God You are everywhere, it is true, but as man and my Redeemer I find You in the Sacred Host. My poor human nature needs to find You, it needs to be able to approach You and possess You not only spiritually but even in a physical reality. I am thinking especially of those precious moments after Holy Communion when Your sacred humanity is in direct physical contact with my soul. Oh Jesus, forgive me my sins; heal, purify, and sanctify my soul; give me those dispositions of profound humility, lively faith, and ardent love which will enable me to receive the fullness of Your divine influence.
+Father Gabriel of Saint Mary Magdalen