Ave Maria Meditations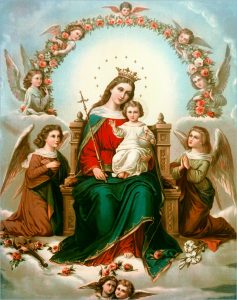 The title of Mother of God, with which the Catholic Church honors Mary, is not only the source of incomparable greatness in her, it is also a potent means to ground us firmly in the possession of true faith, and to bring us to a more perfect knowledge of the divine attributes.  In fact, the first step toward a recognition of Jesus Christ as Savior of the world, is belief in the Divine Maternity: on the other hand, whosoever refuses to acknowledge Mary as true Mother of God, has by the very fact made shipwreck of the faith.
 Further, Divine Wisdom shines forth the more clearly by the fact that God deigned to choose Mary for Mother of His Son. Of all God's works, the Incarnation is worthiest of the right hand of the Most High; but how can I sufficiently admire the counsels of Thy wisdom, O my God, since Thou hast willed to oppose to the work of destruction and death, begun in the sin of Eve and completed in that of Adam, a work of reparation, begun in the obedience of Mary, and consummated in the sacrifice of Jesus? 
What glory accrues to the goodness of God from the Divine Maternity! For, in predestining Mary to be the Mother of the Word, God also decreed to give her to us as our Mother also. He willed that she should accomplish in union with her Son the work of our redemption, and that by regenerating us to the life of grace, she should become our Mother in the spiritual order.  "Oh, the depth of the riches of the wisdom and of the knowledge of God! How incomprehensible are His judgments, and how unsearchable His ways!" 
From "The Fairest Flower of Paradise", by + Cardinal Alexis-Henri-Marie Lepicier