Ave Maria Meditations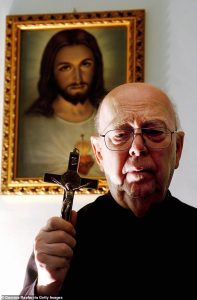 O Jesus our Savior, my Lord and my God, my God in my all, with Your sacrifice on the Cross You redeemed us and defeated the power of satan. I beg You to deliver me from every evil presence and every evil influence.
I ask You and in Your Name, I ask You for the sake of Your wounds, I ask You for the sake of Your Blood, I ask You for the sake of Your Cross, I ask You for the intercession of Mary, immaculate and sorrowful: may the Blood and the water that flow from your side wash over me to purify me, deliver me, heal me. Amen.
Most high Queen of Heaven and of the Angels, we humbly beseech you, who received from God the power and the mission to crush satan's head: command the heavenly host to pursue the demons in battle wherever they are, to rebuke their daring, and thrust them into the abyss. Amen.
+Fr. Gabriel Amorth