Ave Maria Meditations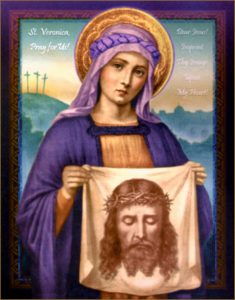 This Lent there will be meditations on the passion of Our Lord. In particular, we will draw meditations on the Holy Face. As Fr. Jambon notes, "There is nothing more sanctifying to our souls than pondering, meditating, and contemplating the Passion and Death of Christ. The graces are great and truly cause us a change of heart for holiness and encourage us on to virtue.
Saint Augustine says: a single tear shed at the remembrance of the Passion of Jesus is worth more than a pilgrimage to Jerusalem, or a year of fasting on bread and water." St. Louis de Montfort also noted that one who thinks of or meditates on the Passion of Christ gains more merit than if he had fasted on bread and water every Friday for a whole year, or had beaten himself with his discipline until blood flowed, or had recited the whole book of psalms every day. These short meditations this Lent will surely be a simple way of grace.
 From Ignatian Meditaions by Fr. Jeffery Jambon