Ave Maria Meditations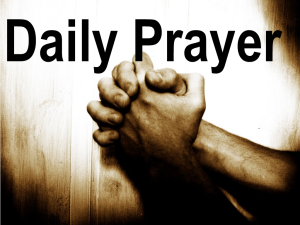 Start and end the day with prayer. Come to God as a child. If you find it hard to pray you can say, "Come Holy Spirit, guide me, protect me, clear out my mind so that I can pray." Or, if you pray to Mary, you can say, "Mary, Mother of Jesus, be a mother to me now, help me to pray."
When you pray, give thanks to God for all His gifts because everything is His and a gift from Him. Your soul is a gift of God… You can say the Our Father, the Hail Mary, the Rosary, the Creed. If you or your family have your own devotions, then pray according to them. If you trust in the Lord and the power of prayer you will overcome any feelings of doubt and fear and loneliness that people commonly feel.
If there is something that is wearing you, then you can go to confession and become perfectly clean, because Jesus forgives everything through the priest. It is a beautiful gift of God that we may go to confession full of sin and come out perfectly pure.
Every night before you go to bed you must make an examination of conscience because you don't know if you'll be alive in the morning! Whatever is troubling you, or whatever wrong you may have done, you need to repair it. Examine your heart first to see if there is any lack of forgiveness of others still inside because how can we ask God for forgiveness if we cannot forgive others? Remember if you truly repent, if you really mean it with a clean heart you will be observed in God's eyes.
Saint Teresa of Calcutta