Ave Maria Meditations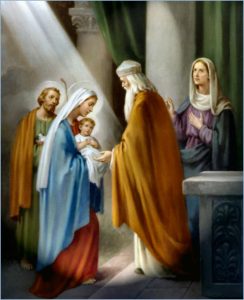 A Morning Prayer:
All-powerful Father, Christ Your Son became man for us and was presented in the temple. May He free our hearts from sin and bring us into Your presence. We ask this through our Lord Jesus Christ, Your Son, who lives and reigns with You and the Holy Spirit, one God forever and ever. Amen
A Prayer to Our Lady:
Hail Virgin Theotokos full of Grace, for Christ our God, the Sun of Righteousness, has dawned from you, granting light to those in darkness. And you, O Righteous Elder, rejoice, taking in Your arms, the Deliverance of our souls, who grants us Resurrection.
A Benedictine Collect:
Almighty and Everlasting God, we humbly beseech Thy Majesty that as Thy only-begotten Son was this day presented in the temple in the substance of our flesh,
so too Thou wouldst grant us to be presented unto Thee with purified souls
and bring us into Your presence. Through the same Christ our Lord. Amen
Canticle of Simeon (Nunc Dimittis):
Lord, now you let Your servant go in peace, Your word has been fulfilled:
My own eyes have seen the salvation, which You have prepared in the sight of every people: a light to reveal you to the nations and the glory of Your people Israel.