Ave Maria Meditations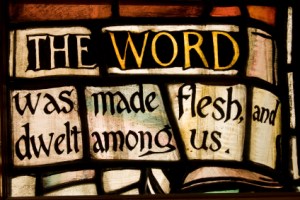 Because of the Incarnation, our natural life has been super-naturalized. Love has become incarnate: God has become human. Because of Christ's birth, a new stream of goodness is flowing. Holiness has become the completion of nature: the fulfilling of the law.
satan has not the power to incarnate himself in our nature, to make himself man, to be born of a woman. He must always work from outside; he is rabid because he is hate, and hate can never be incarnate as love is incarnate in the world. Hate can never be born in generation after generation as love is.
It may look as if evil is triumphant. But in reality there is always, from every outset of the devil, an element of frustration. It is a tormenting thing, literally the torment of the damned, for satan to be compelled to witness the indwelling of divine love, of Jesus Christ, in the dust that we are made of, and to see the substance of earthly things endowed by the touch of the human hands and the warmth of his breath, with life-giving power and these the most simple of substances possessed by the holy poverty that makes then such fitting mediums of grace: water and fire and chrism and oil and wine and bread and salt.
Only love is incarnate. Goodness is natural because the Divine Child, who submitted Himself to the law of His Father's love has made it so.
Carol Houselander (Wood of the Cradle: Wood of the Cross)