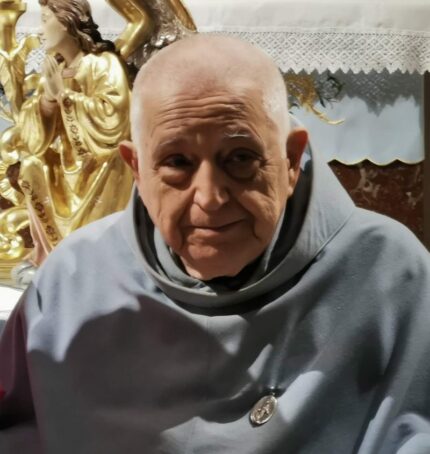 Fr. Maximilian M. Maffei, FI, Credit Diocese of ALBENGA – IMPERIA
Translation from the Article from the Diocese of ALBENGA – IMPERIA:
Fr. Maximilian M. Maffei, FI, one of our Italian priests died yesterday, the vigil of the Feast of Our Lady of the Miraculous Medal.  Some particulars – Renato Maffei was born in Portici (Naples), Italy, on February 21, 1938.  He studied pharmaceuticals and worked in the pharmacy, while being a member of the "Friends of Fr. Kolbe", under the direction of Franciscan Conventual friar, Fr. Stefano Manelli.  He was married on July 27, 1968 and had two daughters who both entered the Poor Clares of the Immaculate at a young age.  With an indult granted by the Holy See, he embraced religious life and entered the Franciscans of the Immaculate in 1999, taking the name of Massimiliano, while his wife became a Poor Clare of the Immaculate, in the same convent as her daughters.  He professed religious vows on Sept. 12, 2000 and was ordained a priest in Frigento, Italy on June 29, 2003.  As a priest, Fr. Maffei was entrusted with various important duties, e.g., promoter and leader of the FI Missions abroad; National Delegate in Italy of the MIM; Postulator of the Institute for the Causes of the Canonization of Saints, in particular Don Dolindo Ruotolo, now well known even in the U.S., as well as Fr. Stefano Manelli's parents.  As of June 2014, he was part of the FI community in Albenga (Savona), Italy, where he spent most of his time hearing Confessions.  He was hospitalized due to COVID and eventually passed into eternity at 9:45 pm on Nov. 26th.  As a great devotee and evangelist of the Miraculous Medal, the coincidence has not escaped notice.  His funeral will be held at 11 am on Nov. 29th in the Cathedral of Albenga, celebrated by the local bishop, Guglielmo Borghetti.  May his soul find rest in the maternal embrace of Mary Immaculate.
From https://www.diocesidialbengaimperia.it/morto-padre-massimiliano-dei-francescani-dellimmacolata-del-pontelungo/