Ave Maria Meditations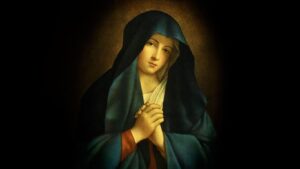 My child, if you seek to do the heavenly Father's will and not your own and are content with the state in which He has placed you, you will desire nothing else. God has blessed the way each person must travel toward sanctity, and you would err if you thought you could find holiness by choosing some other way.
No one can be holy without the help of grace. Now, God grants His grace to each person according as it is needed for the kind of life to which He calls him and the duties for which He destines him. Whatever be the situation in which we find ourselves, our salvation depends on fidelity to grace.
Your state (of life) is not a barrier to holiness. For it is not the place nor the occupation that sanctifies a man; it is the man who must sanctify the place and the occupation. We often turn our thoughts to some state other than the one in which we are. The reason, however, is not love of goodness but our restlessness.
What gain would you have in changing? Would you be a better person? No: in changing your situation or condition, you might change your mood, but not your character. Wherever we go, our defects follow us. My child, what you must change is not your state or your duties but yourself. Sanctify what you do in your present state by referring it all to God, and you will not have cause to complain that your duties are a source of distraction. Holiness does not consist and serving God where and as you would like, but where and as He wishes.