Ave Maria Meditations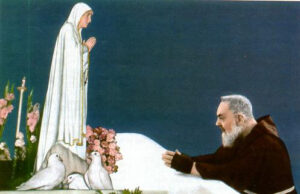 Let us bind ourselves tightly to the Sorrowful Heart of our Heavenly Mother and reflect on its boundless grief and how precious is our soul. May the Mother of Jesus and our Mother, always smile on your spirit, obtaining for it, from her Most Holy Son, every heavenly blessing. "Go and keep company with Jesus in His Passion, and with His Sorrowful Mother.
It is enough for you to know that Mary is the Mother of Jesus…She loves us so much that she offered to God the Father His only natural Son to save His adopted sons…She is a great and inestimable treasure who encloses in herself an infinite treasure, the Son of God.
…If we do what we have always done, what our fathers did before us, we cannot go wrong. Satan wants to destroy this prayer, but in this he will never succeed. The Rosary is the prayer of those who triumph over everything and everyone. It was Our Lady who taught us this prayer, just as it was Jesus who taught us the Our Father. Love the Madonna and pray the Rosary, for her Rosary is the weapon against the evils of the world today. All graces given by God pass through the Blessed Mother.
Some people are so foolish that they think they can go through life without the help of the Blessed Mother. When asked if the Blessed Virgin is present during the Holy Mass, "Yes, she places herself at a side, but I can see her, what a joy. She is always present. How can it be that the Mother of Jesus, present in Calvary at the foot of the Cross, who offered her Son as a victim for the salvation of our souls, not be present in the mystical Calvary of the altar?"
Let us endeavor, like so many elect souls, to follow this blessed Mother, to walk always close to Her, not following any other path that leads to life, except the one trod by our Mother…Always stay close to this Heavenly Mother, because she is the sea to be crossed to reach the shores of Eternal Splendor.