Ave Maria Meditations:  Oh, to see the glory of the Lord! Peter, James and John had that stupendous and awesome experience when their Master was transfigured  before them.  I also wish to see the glory of the Lord and must consider what needs to be transfigured in my life so that my eternity will be spent in the light of His glory…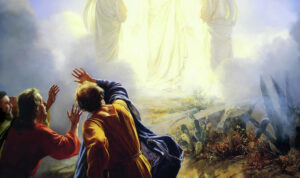 "Life on earth is short and full of dissatisfaction and necessities. Yet God is a wise and loving Father. Every parent seems stern when he is training his children. When they've grown up strong in virtue and firm in character, only then do they appreciate their father's wisdom and love. So, too, with us.
We little dream how weak we are until we feel the call to ease, selfishness, and pride. We might never suspect what we really are if God had not given us a life of trial on earth. God made me for heaven, a reward I cannot even begin to imagine. He asks that I do what I can do to be less unworthy of heaven by striving on earth for some of His goodness and holiness.
Prayer: My loving God make me unselfish enough to follow Your commands, whether my life be filled with prosperity or misery. You know what I need to make me a truly holy man. Someday I will thank You for many a trial which now weighs me down. Treat me as you wish, and it will be best for me. Amen"
From My Daily Bread