#3 Faith – The Virtues of Mary – Retreat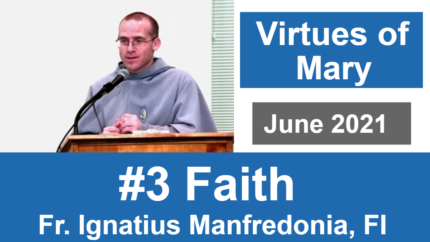 Ave Maria!
Fr. Ignatius Manfredonia on Mary's virtue of faith, what faith is, its relation to authority and trust and how mary practiced it to such a great degree, setting an example and meriting graces for us to do the same.
This is the third of five talks for our "Virtues of Mary" retreat June 18-20, 2021 at the Mother of the Redeemer Retreat Center in Bloomington, Indiana
faith
He first explains what faith is that's based on trust in God's authority in that he's all-knowing and all good. Like Abraham the father of faith who trusted God when asked to sacrifice his son.
Mary's faith is contrasted to Eve's lack of faith trusting in the devil rather than God.
Mary's Faith at the Fiat annunciation
Mary had more faith than All saints and all Angels according to Suarez
Trusted that he was the creator of the universe King of the universe even though he was her son and human.
Her faith is great enough to stay bright in the darkness of the crucifixion.
Faith implies action and obedience putting what he believes into practice. Lack of practice will cause loss of belief, should therefore be growing in faith.
It's Insanity to believe and not practice knowing that there's eternal damnation and eternal reward.
Freedom in faith that truth will set us free.
Our Lady continues to grow and faith. Again according to Suarez
Also on YouTube:
https://youtu.be/3xtCiEQuGAE
More Virtues of Mary:
https://airmaria.com/tag/virtues-of-mary-conference/
Youtube Playlist:
https://www.youtube.com/watch?v=Iw59mHnwrjE&list=PLejh_e0-LN4wr1cYkhd2-xk6g1uY3IgSI
Mother of the Redeemer Retreat Center:
https://maryschildren.com/
+++