Ave Maria Meditations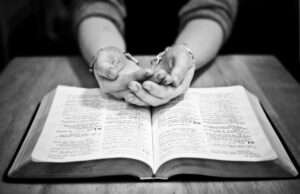 (Jesus speaks): Begin the day with prayer and offer all of that day to Me. Participate with Me, if possible, in the Holy Sacrifice of the Mass, joining  yourself sacramentally to Me in Holy Communion. Set aside some moments for daily meditation.  Pray the rosary every day if possible. And if you have time in accord with your state in life, pray part or all of the Divine Office. Every day do some spiritual reading especially the Gospel or other parts of  Scripture.
Do not tell me that you are too busy to lift your thoughts to Me. Give Me of your time, and I will do half and more of your work. Give Me your thoughts, and I will enlighten your mind. Give Me your will, and I will return to you My peace. Give Me your love, and I will fill your days with joy. Give Me your prayers, and I will open to you the inexhaustible treasures of heaven.
Deacon Clarence J. Enzler