Ave Maria Meditations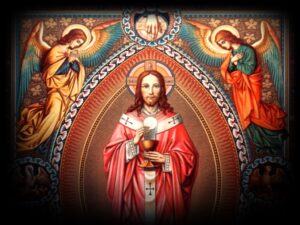 When we receive our Lord in Holy Communion, we possess within us that Divine Heart which is a furnace of love. Let us ask Him earnestly that He will Himself grant us to understand this love, for in this one ray from on high is more efficacious than all human reasoning.
Let us ask Him to enkindle within us the love of His Person.  "If, by our Lord's grace," says Saint Theresa, "His love is imprinted one day in our heart, all will become easy to us; very rapidly and without trouble we should come to works of love."
If this love for the Person of Jesus is in our heart, our activity will spring forth from it. We may meet with difficulties, be subject to great trials, undergo a violent temptation; if we love Christ Jesus, these difficulties, these trials, these temptations will find us steadfast. For when the love of Christ urges us we shall not wish any longer to live for ourselves, but for Him who loved us and delivered Himself up for us.
Blessed Columba Marmion