Ave Maria Meditations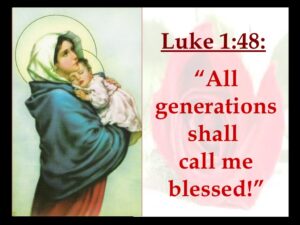 The Blessed Virgin Mary is born to be Mother. The supreme consolation that Our Lady receives at the Cross of her Son is the assurance that her vocation as Mother does not end with Christ's death. The Lord commands the world, "Behold your Mother." The resurrection begins for Mary, and for us, with these words.
The Blessed Virgin's womb remains forever fruitful. Mary leads us to Christ, but Christ leads us back to His Mother, for without Mary's maternity, Jesus would become a mere abstraction to us.
The Lord wills to "let His face shine upon" us through the face of the Mother of God. We serve a Mother who seems to grow more beautiful as new generations rise up and call her blessed.
+G. K. Chesterton