Ave Maria Meditations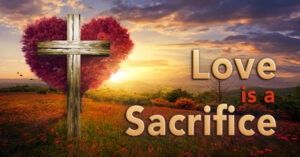 Sacrifice and contemplative prayer go hand-in-hand. If you do not practice sacrifice, do not complain that your prayer has grown cold. You have to make many sacrifices when you live in the midst of people who differ from you politically, socially, and ideologically. But look at the example of Jesus. He who is God chose to live among humanity and thirty-three years of continual sacrifice.
While everyone else would say, "This person is a cause of misfortune," you could say, "This person is the instrument by which I am being transformed!"
Perhaps you think you have nothing to sacrifice, but do you reject the opportunities that present themselves? For example, be happy and jovial with someone who ridicules you or tries to make you angry; be silent in the face of a false and unjust accusation; show love to a friend who betrays you and do not utter an angry word in retaliation.
Every single moment is full of opportunities for sacrifice. A person who truly loves, sacrifices all the time and never speaks about it. Without sacrifice, there will be no holiness. You have to deny yourself and take up your cross before you can follow the Lord. Self denial is a prerequisite of holiness.
Venerable Francis Xavier Nguyen Van Thuan