Ave Maria Meditations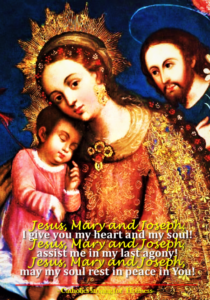 Oh holy Mother, most affected by the bitter sorrow which you endured at the foot of the Cross during the three hours agony of Jesus: help to assist all of us, the children of your sorrows, in our last agony.  That through your intersession we may pass from the bed of death to form a crown for you in the heavenly paradise.
Hail Mary full of Grace etc.
O Mary Mother of grace, Mother of mercy: protect us from the enemy and receive us at the hour of death.
From sudden and un-looked for death, O Lord deliver us. From the snares of the devil, O Lord deliver us.  From everlasting death,  O Lord, deliver us.
Jesus, Mary, and Joseph I give you my heart and my soul. Jesus, Mary, and Joseph assist me in my last agony. Jesus, Mary, and Joseph may I breathe forth my soul in peace with you.